MISCELLANEOUS > REPAIRS & ASSISTANCE
I've been asked for specific spare part problems with Star drums and hardware parts.
In this section I will answer some of the queries which reached me. I'm sorry, but not in all matters a good solution is available – at least we are talking about drums being approx. 50 years old!
Update 2022: At the moment I do still have some spare parts for Star drums again: If you are in need of
a tension rod, lugs, a damper etc. … just send me a note!
Tension screws (at snare drum and toms):
   I guess this is the question of most interest. Unfortunately, but I have to state: The screw thread of Star
   tension rods at snare drums and toms was something very special. I tried hard, but until today I wasn't able
   to find out, which thread was exactly used at Star drums. It is similar to the metric M5 – but not equal and
   a normal M5 tension rod will not fit into the inserts at any lug.
Solution:
   Find a tension screw which length fits at your drum and order additionally so called 'inserts' for the lugs
   with a matching thread. It can hardly be seen afterwards, if some of the tension screws don't look the same
   like Star tension rods.
King Beat snare drum: Spares for the white plastic part
   One of just two weak points at the King Beat snare drum is the plastic guide slide at both sides of the drum:
   It's becoming brittle and tends to break over the years.
King Beat snare drum: How to make a snare wire fit to this snare drum
   If you face the problem to find a substitution for your worn original King Beat snare wires:
   Here's a cheaper way to settle the matter.
Solution:
   Find new snare wires with a slot at each side.
   Diameter should fit within the resonant head and
   bend a piece of stainless steel (approx. 0.8 mm
   thick) according to this PDF file:
   Star snare wires adapter technical sheet
   Special thanks to Hendrik here in Germany for
   the photo and the technical sheet as well!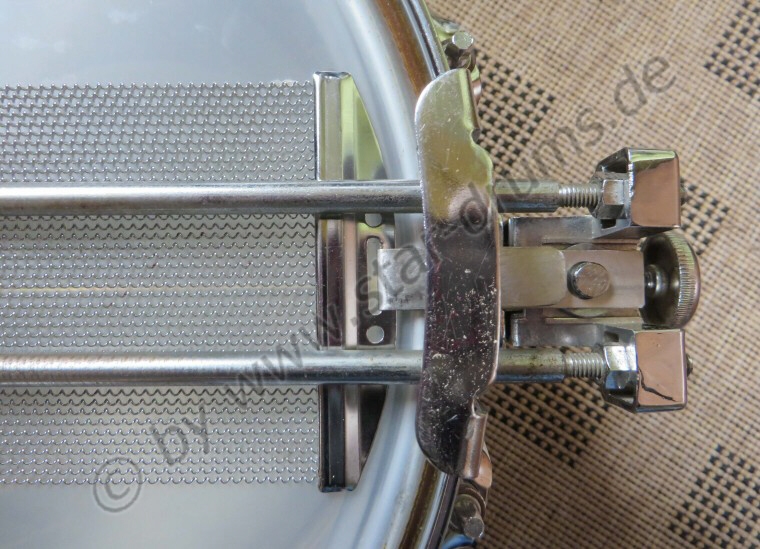 Wrap:
   If you are in need of a matching wrap for one of your drums this might be a worry to you. Original wrap
   is no longer available (unless you find an orphan drum with exactly the same finish and you use the wrap
   or the complete drum in addition to your kit).
Solution:
   Try to find an orphan drum from Star online or elsewhere and use the wrap – or the complete drum – in
   addition to your kit. Best of luck!